A rather unexpected cycle of films, as aesthetically and economically different from each other as could be, all took as partial or total focus of their narratives the topic of abortion. From small budget quirky comedy
Waitress
to the latest Judd Apatow powerhouse
Knocked Up
to Tony Kaye's epic documentary
Lake of Fire
to the even quirkier teen comedy
Juno
to the Romanian drama
4 Months, 3 Weeks and 2 Days
, all five of these movies dealt with abortion on some level or another, which is a surprise given how much the subject has stayed off of the front pages in recent years. (More hot-button issues in the last four years seem to have been war, torture, gay marriage, stem-cell research and sexual impropriety by the nation's leaders, whereas in the mid-1990s, abortion clinics were picketed and bombed with terrifying frequency, and whether a candidate was pro-choice or pro-life could make or break their campaign.)
It is certainly commendable that abortion should find its way into three relatively mainstream American comedies–
Knocked Up
,
Waitress,
and
Juno
. These movies, however, don't really take abortion as its primary subject; rather, it is an unexpected pregnancy that is the spine of these films' narratives. All of these pregnancies are carried to term, fitting them neatly into that subgenre of romantic comedy in which the female protagonist gets a bun in the oven in the first act, and has a blissful delivery at the climax. This is all well and good, to a degree. As several people have pointed out, there's no story if the baby doesn't get born. I'll dispute that later; firstly, let's examine just how these movies resolve the conflict early on, in which a woman must choose either Planned Parenthood or the local obstetrician.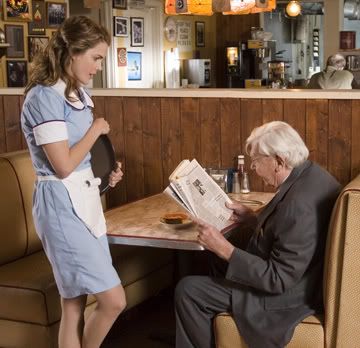 In
Waitress
, much like
Knocked Up
and
Juno
, writer-director Adrienne Shelley dispatches abortion with quite a bit of narrative speed. Shelley's heroine Jenna, a preternaturally gifted pie maker played by Keri Russell, discovers that she is pregnant, the father being her abusive husband (Jeremy Sisto). She and her friends Dawn and Becky (Shelley and Cheryl Hines) wait outside the diner where they all work discussing Jenna's new problem. Dawn brings it up hesitatingly: "have you thought about...the other thing?" Becky and Jenna react with shock and horror. Jenna immediately assures them that she will have the baby–despite the fact that she hates the thing, and for the rest of the movie, writes it letters which blame it for ruining her life. By the end of the movie, her pregnancy has given her the strength to become an independent, self-reliant woman, and she sloughs off both her husband and her OB/GYN lover (Nathan Fillion).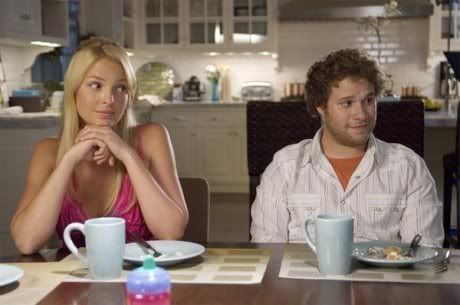 Judd Apatow similarly pays slight and evasive attention to the issue. Alison (Katherine Heigl), an up-and-coming producer/host on E!, has a drunken one-night stand with Ben (Seth Rogen), a Canadian pothead slacker living off of an accident settlement. After she discovers that she is pregnant and informs Ben, Apatow presents two scenes. In the first, Ben consults with his friends. One (Jonah Hill) insists that Alison should "take care of it." He eventually calls it a "shmashmortion," so as to not upset one of the guys. This guy eventually bursts into a fit of hysteria, begging Ben to keep the baby away from "those butchers." He even offers to raise the child himself if Ben does not believe he can handle the responsibility. Meanwhile, Alison is having lunch with her mother (Joanna Kerns), who similarly tells her to "take care of it." A few more brief words from her, met by silence from Alison, lead to the clinching transition: Alison calls Ben to tell him that she is keeping the baby. Ben decides he wants to be involved, and after many setbacks, he and Alison fall in love, the baby is climactically born, and the three of them literally ride off into the sunset.
Juno
is the only one of these three films to actually use the word "abortion." High school junior Juno MacGuff (Ellen Page) decides one night that it would be more fun to have sex with her best friend, Paulie Bleeker (Michael Cera), than to watch
The Blair Witch Project
. Pregnancy ensues, and she makes the trip to the local clinic. A school acquaintance is outside protesting, and warns Juno that the fetus has fingernails. Inside the clinic, a goofy-looking slacker takes Juno's information, making uncouth jokes in the process. As Juno looks around the waiting room, director Jason Reitman rapidly cuts from one nervous, "uncool" woman to another, until he cuts to Juno high-tailing it out of the office. That night, Juno tells her friend (Olivia Thirlby) that she couldn't go through with it, that the thought of a fetus having fingernails freaked her out too much. She then decides to find a cute couple in the Penny-Saver who can adopt the child. She finds one (Jason Bateman & Jennifer Garner), and thanks to seeing Garner act as a good mom when she interacts with her niece–as opposed to the suburban ice queen she previously believed Garner to be–Juno realizes that she can give as well as admit her complete love for Paulie. Climactic birth ensues, and Juno and Paulie play their guitars into the sunset.
Make no mistake: no woman should ever be forced to have an abortion. She has the ultimate right to choose what to do with her body, be that abortion, adoption, or becoming a full-fledged mother. And certainly on the most literal level, Jenna, Alison and Juno make their own choices. But, as I have hinted at, there seem to be other rhetorical forces at work informing those choices.
In 21st Century America, abortion is something which is considered practically every time a woman becomes unexpectedly pregnant. It is a serious decision, and it is not my impression that most women make it lightly. (People tell me that in post-communist Romania, women often use abortion as a form of birth control; but more on that later.) In
Waitress,
Knocked Up
, and
Juno
, however, abortion is treated as something of an afterthought, an idea quickly discarded for the more sensible option.
Juno decides to have an abortion, certainly, but writer Diablo Cody and Reitman suggest that her decision to give the baby away is the first step toward a growing maturity within Juno, culminating in rejecting the arrested development of Bateman in favor of the loving maternity of Garner. Certainly Juno's horror at the abortion clinic implies that such a choice for a pregnant teenager is positively repugnant.
Both Jenna and Alison don't appear to want to be mothers at all. They are both career women who are attempting to discover their own right to independence. Jenna is outright contemptuous of the thing growing inside of her, and Alison is depicted as a hot young spinster who is told by her bosses that she needs to focus on her image in order to get ahead. She is not happy to hear that she is pregnant, but after her talk with her mother, she comes to a quick decision to have–and keep–the baby. The way Apatow constructs the sequence suggests that Alison petulantly makes her choice as a defiant act against her mother. Neither Shelley nor Apatow have created scenarios in which their women might make a more serious, considered decision about the rest of their lives. There actually doesn't seem to be a whole lot of choice in the matter. At points, all three movies are openly hostile toward abortion, from the outright disgust of Ben and Jenna's friends to Juno's shock and horror at the clinic.
As for the rebuttal, "there's no movie if she has an abortion," honestly: as far as narrative is concerned, the pregnancy rom-com subgenre is a little too easy to make. Your three-act structure is built right in, as if nothing else interesting could be explored with these characters. Is it really that impossible to make a 90-120 minute movie–a romantic comedy, even–in which a woman has an abortion? I would like to think that Apatow, Cody, Reitman, and Shelley are creative enough to put together films that are more complex when it comes to the issue of women's choice.
By contrast, Cristian Mungiu's
4 Months, 3 Weeks and 2 Days
and Tony Kaye's
Lake of Fire
never flinch from the realities and broader emotional spectrum of abortion.
4 Months
(a fiction film from Romania following two college friends over the course of one day as one of them tries to obtain an illegal abortion during the Ceausescu era) and
Lake of Fire
(a documentary shot in 35mm black-and-white in the US over a 17-year period) are certainly different in many respects, but both take abortion as seriously as cancer.
Lake of Fire
may stand as the definitive polemic on abortion in America. Begun in the early 1990s, when the British-born Kaye was still a commercials director, the film features talking-head interviews, vérité footage of pro-choice and pro-life rallies, and two actual abortion procedures. Advocates on both sides of the aisle–and along various points of the spectrum–let their voices be heard. Kaye gives roughly equal time to most participants, and though his rhetorical technique subtly reveals the film's pro-choice leanings, he never allows the film to devolve into an ideological screed. Many unexpected opinions emerge from various figures, including author and Village Voice columnist Nat Hentoff, who is literally pro-life. He is an atheist and is opposed to abortion, war and the death penalty, a platform most pro-lifers would not claim as their own. Another is Norma McCorvey, the woman who served as Roe in Roe v. Wade. After being a pro-choice crusader for many years–along with being a lesbian–McCorvey claims to have seen a collection of dead fetuses in the walk-in freezer at the Texas abortion clinic where she worked. Soon afterward, she denounced her lesbianism, found Jesus, and became one of the key pro-life advocates in America. This is obviously a massive political windfall for the pro-life movement, but Kaye treats it as another example of how complex the issue of abortion is, certainly more complex than many of the demagogues in the film would like us to believe.
The film's climactic sequence–following a woman in Wisconsin through her own abortion procedure–is similarly treated with great restraint and impassivity. the woman describes her previous abortion procedures, and appears to have a great deal of melancholy about the latest. Doctors and nurses interview her, making sure that she is doing this of her own free will, and that she is 100% certain that this is what she wants to do. Then Kaye shows the actual procedure. Some critics have decried this move as exploitation, that Kaye wishes to merely shock the audience with the image of a dead fetus. But the procedure is so restrained, and its gruesome elements so deftly and matter-of-factly handled, that all we can think about is simply, this is how abortions are done. After the procedure has ended, the woman speaks directly to the camera about the experience. Eventually, she breaks down crying.
The grand ideas we come away with after the movie ends is not that abortion is an uncomfortable afterthought, something which women quickly need to disregard when they discover that they are pregnant. Instead, the question of abortion emerges as something which is a very real, serious idea that every woman must decide for themselves. No one takes it lightly, and no one underestimates its consequences. But the necessity of its legality has the potential, as Kaye shows, to rip America in two.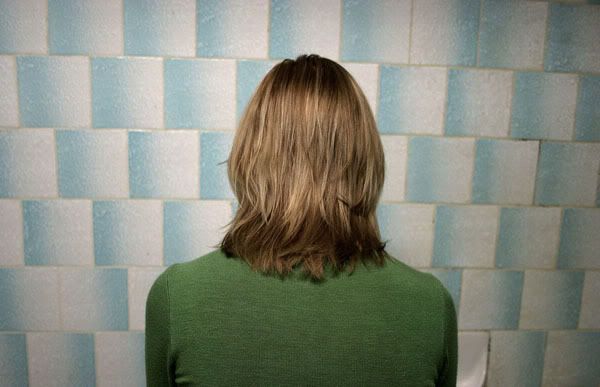 4 Months, 3 Weeks and 2 Days
offers up a case study which Tony Kaye might have used had he filmed in Romania instead of America. Two college students, Gabita (Laura Vasiliu) and Otilia (Anamaria Marinca), attempt to traverse the black-market abortion industry in Romania in 1987. Ceausescu criminalized the procedure when he came to power in 1966, and it wouldn't become legal again until 1989, when he was deposed. Meanwhile, Otilia must monomaniacally overcome many obstacles in order to help Gabita procure an abortion. These include incredibly precise logistical steps in order to avoid being caught, negotiating with a terrifying doctor (Vlad Ivanov) who eventually forces Otilia to prostitute herself, and her boyfriend's family, who trap her at dinner and incessantly talk about the banal while Otilia grows more and more anxious by the second. Mungiu films in long, sustained, hand-held takes, allowing a mood of quiet menace to creep into every corner of the frame. Otilia thinks of nothing else but helping her friend, to the point where, through her own frustration and the incredible rigor of Mungiu's images, she becomes consumed by the quest and the quest alone, physically unable to understand anything else. The portentousness of the ending–a two-shot of Otilia and Gabita after the procedure, neither woman able to eat dinner while a wedding party goes on in the background–speaks to the depths of, and perhaps the irreparable harm done to, their friendship. But the film never questions the bond between them, or the necessity for the both of them to do what they do, even if it means potential harm. And the evil done to them is not abortion itself, but a political ideology that doesn't allow for Gabita to share the experience of the woman at the end of
Lake of Fire
.
So what are we left with? Five films which roughly split into two camps: comedy vs. drama, pro-life vs. pro-choice, mainstream vs. art house. Their approaches may all widely differ from each other, but these dualities remain fairly consistent. It would seem to suggest that mainstream America cannot face abortion in 2007. Or it could suggest that pregnancy narratives are merely in fashion, and the suppression of abortion is just an unfortunate byproduct. Further still, it could be that no one knows how to make a pro-choice comedy. I am not sure. In any case, we are left with a somewhat disturbing trend that has the potential to continue for years to come.
By the way, here's the piece that killed my motivation to put this one on the web, mainly because he beat me to the punch, and it's much better:
J. Hoberman in The Village Voice