In any other year, these 10 films could have ended up on my Top 10; however, 2007 was so strong a year that I couldn't avoid the opportunity to acknowledge their achievements, as broad and far-reaching as they certainly are.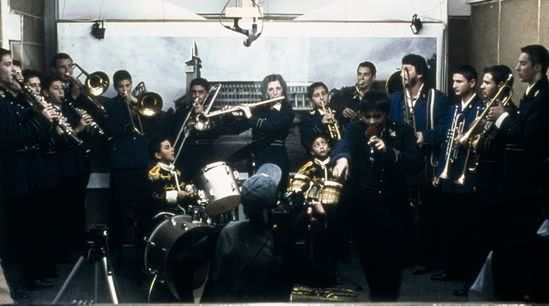 12:08 East of Bucharest (Corneliu Porumboiu)
Like
Zodiac
,
Syndromes and a Century
, and
Brand Upon the Brain
, the trickiness of memory is a central concern for Corneliu Porumboiu's chamber piece, only it takes a much more darkly funny point of view about it. Three men, all of whom feel like they have something to prove about the fall of Ceauşescu, reveal something essential about the nature of politics: regimes may change, but people rarely do, ditto the beauty of the world all around us. The central sequence–a real-time television broadcast–is a delicious parody of regional public access TV and a sobering satire about how history can get lost in the shuffle of human perception.
Away from Her (Sarah Polley)
Fiona (Julie Christie) and Grant (Gordon Pinsent) have the sort of wealthy-liberal marriage most of us could only dream about. But the fairy tale ends when Fiona is diagnosed with Alzheimer's, and is placed in a treatment center. The great sadness of having to cope with such a loss informs every single frame of this beautiful, graceful film, one which neither sentimentalizes nor trivializes the effect of Alzheimer's disease on a marriage. Grant watches as the woman he knew vanishes, as she finds it difficult to remember him, and even takes up with a fellow patient. Grant was once unfaithful, many decades ago, and perhaps this is Fiona punishing him. Or perhaps it is an inevitable byproduct of Fiona desperately attempting to find something which makes sense to her. Neil Young's "Harvest Moon," in its original version and a new, instrumental version, haunts the backdoors of the film, where Grant realizes that he and Fiona must invent new lives for themselves, and performs the ultimate sacrifice–which is also the ultimate act of love. Polley's direction and camerawork is so understated, so quiet, so assured, that we can only marvel at the beautifully sad thing she has created, and wonder what true love ultimately means.
Before the Devil Knows You're Dead (Sidney Lumet)
Although it is the least of the six major American films released this year–
The Assassination of Jesse James by the Coward Robert Ford
,
I'm Not There
,
No Country for Old Men
,
There Will Be Blood
, and
Zodiac
being the other five–Sidney Lumet's newest gem is a propulsive thriller about the destructiveness of family. Brother allies with brother, brothers turn against mother and father, brother turns against brother, and finally, father turns against son. Philip Seymour Hoffman might have delivered his masterpiece, a role so finely etched, so human in its evil, and so seething underneath the surface that we don't know when the man might explode. Hoffman, Ethan Hawke, Albert Finney, Marisa Tomei, Rosemary Harris, and even Amy Ryan and Michael Shannon rot away before your very eyes.
Brand Upon the Brain! (Guy Maddin)
Guy Maddin's reimagining of his childhood might play differently were one to see it in a theater with a standard sound mix. But to see
Brand Upon the Brain!
with a live chamber orchestra performing the score, Isabella Rossellini reading the narration live, and with live sound effects turns it into a mesmerizing, living performative experience. Cross-dressing, young love, a mother Freud would appreciate, and a tawdry silent movie aesthetic makes the film one of the most deliciously gaudy, genuinely moving melodramas in recent years.
Golden Door (Emanuele Crialese)
A triumph of narrative economy, Emanuele Crialese's immigration tale never lets the audience up for air, quite literally. Almost all of the film is set in the bowels of a ship or the many halls of Ellis Island. It is mercilessly unsentimental in presenting the vicious bureaucracy of the immigration process, from the false dreams in the homeland to the arranged marriages near the end of the island's dehumanization method. When "Sinnerman" comes blasting through the speakers and Charlotte Gainsbourg is seen swimming in the milk of human kindness, it is a great, radiant release, the liberation of spirit the family may never achieve in fact.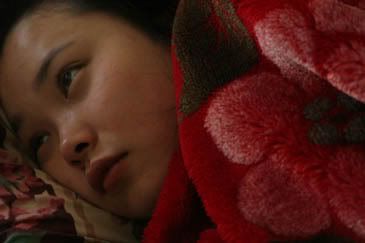 In Between Days (So Yong Kim)
Although it is set in a Canadian metropolis,
In Between Days
could be set anywhere. The cold and isolating atmosphere in which the protagonist, Aimie (Ji-seon Kim) finds herself is emblematic of the isolation she isn't even aware of within herself. Haunting pillow shots where she recites letters to her father remind us just how distant her reality is from her perception of it. She falls in love with the only person with whom she can communicate, drops out of a class in order to buy him a bracelet, and holds a typically adolescent insouciance toward the larger universe. After Tran (Taegu Andy Kang) rejects her affections, she begins to understand how alone she really is. Kim films these intimate moments in tossed off, handheld takes, using quiet, effortless dialogue.
In Between Days
is a delicate and sad slice of life.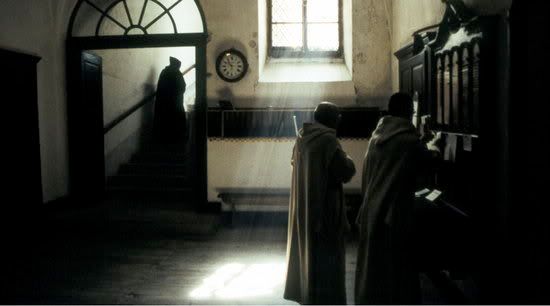 Into Great Silence (Philip Gröning)
The monks of Chartreuse Monastery in northern France are the subject of this thoroughly mesmerizing documentary about the daily lives of men who only open their mouths to sing or pray–which is, more often than not, the same action. Gröning shoots in HD and Super-8mm, evoking a starkly beautiful, holy place that seems godly in its perfection. Gröning piles on one activity after another–dining, praying, singing, outings, gardening–without any context or talking heads. Eventually, we move at the pace of the subjects, pondering the sayings that break up the action. It's entrancing, and quietly suggests the glories of God on Earth.
Manufactured Landscapes (Jennifer Baichwal)
Jennifer Baichwal's brilliant documentary pulls off a hat trick: it discusses the work of another artist–photographer Edward Burtynsky–renders his body of work into a cinematic form, and then makes that form its own, thus creating an incredible dialogue between examiner and the examined. What's more, the film is strikingly beautiful, exploring the weird aesthetic qualities of material and its origins. From its virtuoso opening tracking shot to its defamiliarization of scrapyards,
Manufactured Landscapes
exposes the beauty within the inhuman, perhaps the last stand in the war on globalization. Lacking in ideology but fully conscious of the horrors of globalized manufacturing, Baichwal and Burtynsky never flinch from the ghostly power of their images; it is the only way to wake us up now.
SuperBad (Greg Mottola/Seth Rogen & Evan Goldberg)
SuperBad
is the comedy of the year. A complete reconstruction of the raunchy teen comedy, it contains the strongest and funniest writing of the year, and delivers every single note correctly.
SuperBad
also reveals itself to be a rather incisive depiction of what hold the modern adolescent male in a perpetual state of infantilism: fear of the female body. The barrage of sex jokes, coupled with Seth (Jonah Hill) and Evan's (Michael Cera) total love for each other, makes the ending incredibly sad and mournful. Not only have they learned to no longer see women as Other, their looks back at each other mark the growth of their own love, which makes their parting all the more tragic.
SuperBad
is the greatest gay love story since
Tropical Malady
.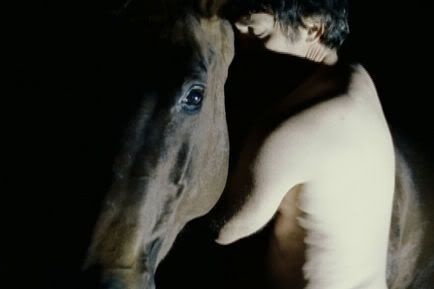 Zoo (Robinson Devor)
On the surface,
Zoo
is a documentary about men who like to have sex with male horses. This is like saying that
War and Peace
is about the Battle of Borodino. Robinson Devor has positioned his film as the successor to Errol Morris's lyrical, meditative documentaries, juxtaposing actual interviews with dramatic reconstructions of the events described. Devor refuses to judge or exoticize the community of men in rural Washington who come together to have sex with these horses, but he does present their world as a dreamy, haunting and alien universe. It is extremely difficult for a non-zoophile to completely understand and totally identify with the lifestyle of a zoophile, but the notion of considering them any less acceptable in their sexual practices becomes essentially moot. Their world may be strange, but it contains the same quality of beauty that any other world might contain.