Here it is, the final entry, the movie that I may have seen last, but left the most deep, violent impression on me: if
I'm Not There
and
Syndromes and a Century
are joy inherent, and
Colossal Youth
represents a completely new kind of film, then this is the most explosive piece of mainstream cinema of the year.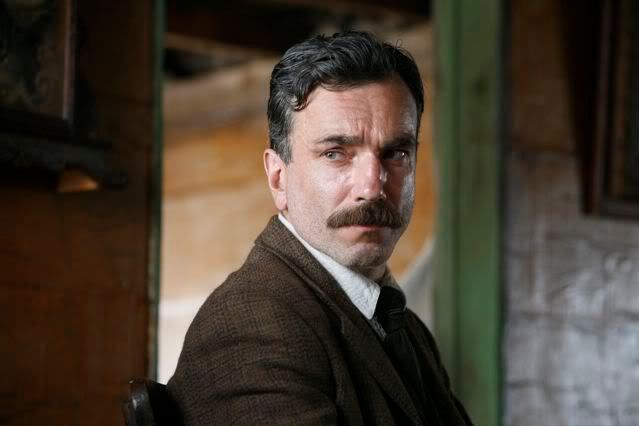 There Will Be Blood
(Paul Thomas Anderson)
I'm not sure I have ever seen anything like what has been achieved with
There Will Be Blood
. It is a work that grows within you, festering, not letting its grip loose. It is a work of sublimated emotional and physical violence, etching each shot into the fabric like a knife blade into a block of wood.
We open in silence. Daniel Plainview (Daniel Day-Lewis) can't make his fortune in silver, so he moves to oil prospecting. He becomes rich. But he lusts for even bigger windfalls. He has a son, H.W. (Dillon Freasier). One day, Paul Sunday (Paul Dano) come to his office and tells him that oil is in Little Boston, California. Plainview finds it, buys the land, and drains the oil from the ground. H.W. has an accident by the derrick and becomes deaf. Daniel's mysterious half-brother, Henry (Kevin J. O'Connor), appears and becomes a new partner. H.W. is sent away to a deaf school, and all the while Daniel builds a rivalry with the other Sunday brother, Eli (also played by Dano), a young preacher who may not be all that he seems. And so, after Daniel has sold off to Union Oil, and we discover the depths and sources of both his fury and his sorrow, we see him retired, fifteen years later, disowning his son and having one final showdown with Eli. It is here that we see what these two men have quietly been all along: the corruption of the American soul, and of their own souls. Daniel lost his family to his avarice, and Eli lost his and many others' faiths to the same vice.
Anderson has crystallized what he began with
Punch-Drunk Love
, namely, refocusing and concentrating the vast wealth of his talent. His tracking shots have slowed their tempo, and have thus become more penetrating and ominous. Similarly, his soundscapes are more stark, and more sparse. The score, by Radiohead's Jonny Greenwood, is Anderson's first without the Michael Penn-Aimee Mann-Jon Brion juggernaut, but Greenwood follows Brion's lead from
Punch-Drunk Love
by creating an impressionistic, sparsely-used score that is without fail, the best film score
since
Brion's 2002 opus. Anderson employs Greenwood's percussive, dissonant strings to terrifying use, as they actively become an essential part of the film's fabric, the tool which alludes to the hideous decay which is slowly built upon with all other elements.
And then there is the small matter of Day-Lewis and Dano. Day-Lewis only further confirms his mastery over his craft, as every nuance, every simmering ferocity, every small expression of tenderness or pain is completely under his control. Daniel Plainview is a titanic smokestack, misanthropic to the core and willing to subvert any obstacle in order to achieve his ends. He instantly recognizes in Eli the same impulse to control and manipulate, and hates the threat to his power. It is a marvel to see Day-Lewis keep this all under the surface of things, smoldering until the climactic battle between and money and faith.
As for Dano, make no mistake: he is a force to be reckoned with. Outclassed he may be, but how many 23-year-olds do you know who wouldn't be? Eli is, similarly to Javier Bardem's Chigurh in
No Country for Old Men
, a mortal demon, a clear-eyed, placid poison who hungers for wealth and power while appearing calm and pious to his parishioners. He condemns Plainview and his own father for striking a deal to drill for oil, but he is sickened more by the fact that he is not paid what he feel he is owed. A most revealing moment is his new church being built around him while he rehearses his sermon. Elmer Gantry would be proud. But Dano, as wonderfully creepy and outlandish as he lets Eli be, also shows his vulnerability, especially when Eli, now rich and famous at the movie's climax, visits Daniel to see if he will drill for more oil for him. Eli is weak, succumbing to "sin" and greed, some semblance of true belief still within him that says he has failed to do the Lord's will.
SPOILER ALERT: And what of the ending which many decry or laugh off? It seems like the explosion that the movie has threatened to bring, but away from which it always shies. It is the mad, tormented battle that illuminates the final straw of Daniel's hatred, and of his madness. He finally explodes, like the oil derrick that brings about H.W.'s deafness. It is the delirious end of faith, faith destroyed by money, and the evil that lays sprawling out before us, yelling, "I'm finished " Plainview has won and lost–for it is America that is finished.